Yanna Pelser
During my Bachelor studies in classical viola, I was a talented and agile student to the ears of my professor. However, inside my body a nasty shoulder injury was being developed, forcing me to temporarily stop my studies. It was the beginning of a quest that has given me enormous insights into my own body use and that of others. It also changed my view of what sound is, what music is, what hearing and listening is, what free movement is and what performance pressure can do to a person. And above all: what an immense joy it is to play music.

My shoulder injury forced me to seek help everywhere; from the clinic for musicians in The Hague to acupuncture, Feldenkrais Method, Alexander Technique, Dispokinesiotherapy, and more. I researched many movement methods for musicians and wrote my undergraduate thesis on them. Unfortunately, after trying many methods, I was still not helped…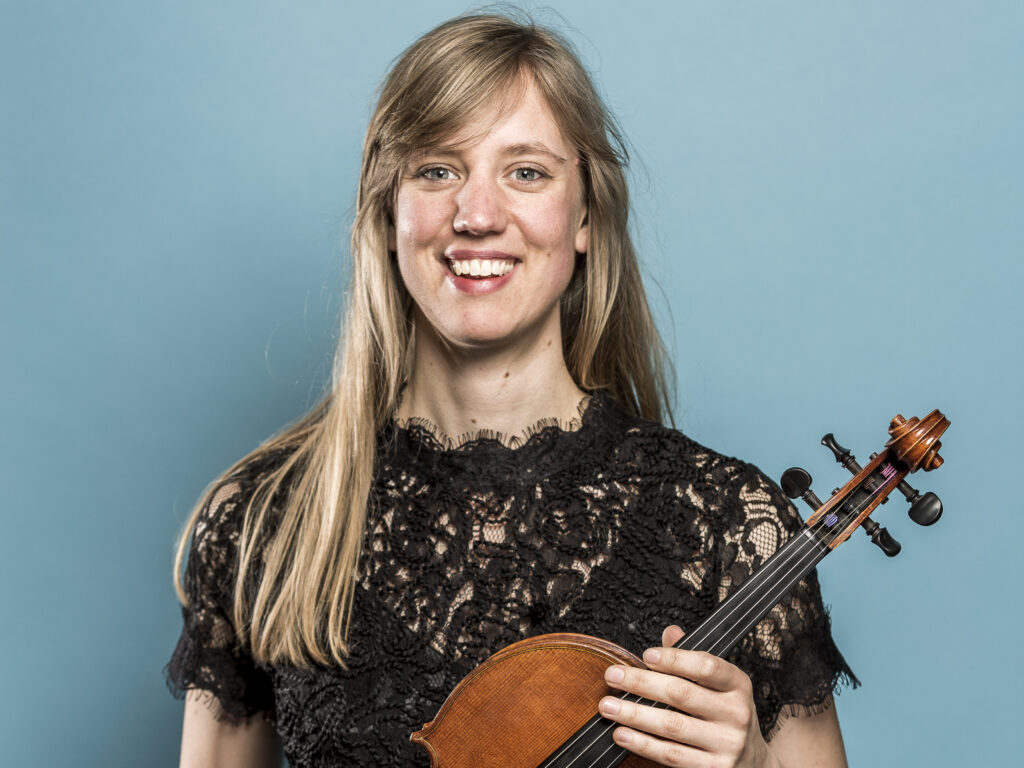 Until, in 2011, I was introduced to Resonanzlehre. What immediately appealed to me was the organic, musical and sound-oriented approach of this teaching. The direct connection of sound and movement is something I hardly encountered in other body methods. It turned out to be an essential link needed to make the connection between new body use, my musical-artistic intention and the sound coming out of my viola.
When I began a series of private lessons with Thomas Lange, the creator of the Resonanzlehre, I soon noticed that not only did my sound gain more space for resonance and expressiveness, but more space for vibration was created in my body as well: my shoulder injury disappeared, and I really felt the music in my whole body. This caused me to become fascinated by the musicality of the human body, and I devoted my master's research to this topic.
I didn't want to stop there, so I decided to take the three-year course in Berlin to become a certified Resonanzlehre trainer. This course allowed me to experiment a lot in training musicians of all kinds of instruments and singers. I also gained a lot of experience in giving workshops to groups and coaching ensembles. Each time I look forward to seeing new faces who are looking for more freedom and expression in sound. It is a tremendous joy for me to guide people in expanding their potential.
In addition to my pursuits as a Resonance trainer, I am active on concert stages at home and abroad. I play in jazz and world music formations North Sea String Quartet and AM.OK, freelancing in the Dutch professional orchestras and as an acting musician in theater productions by Oorkaan and the Noord Nederlands Toneel / Asko|Schönberg. Free improvisation is one of my favorite musical pursuits, and preferably together with great musicians such as double bassist Jordi Carrasco Hjelm (SE).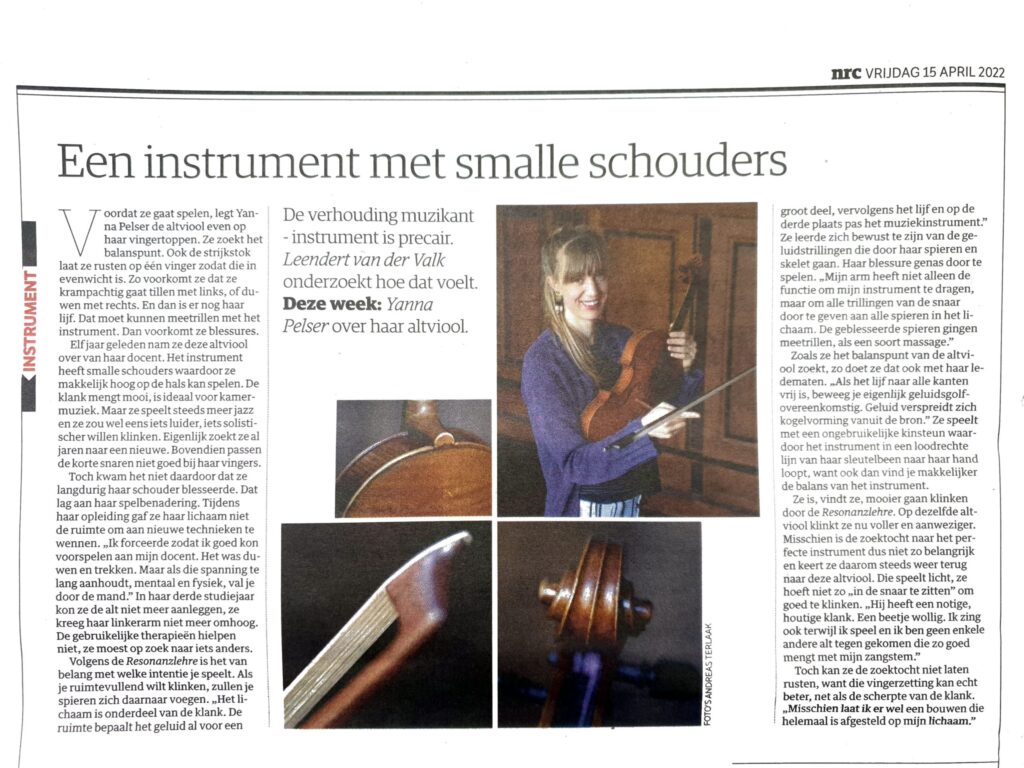 Education
2007 – 2014 classical viola at conservatories of Rotterdam (Bachelor), Detmold (Erasmus exchange) and Tilburg (Master) with Gisella Bergman, Diemut Poppen and Corinne Contardo.
2008 – 2017 master classes from renowned artists such as Garth Knox, Hartmut Rohde, Tatjana Masurenko, Ervin Schiffer, Gordan Nikolic, Atom String Quartet
2015 – 2018 'Teachers Training Resonanzlehre, angewandte Musikphysiologie für Musiker' with Resonanzlehre founder Thomas Lange (Berlin), made possible with scholarships from the VSB Fonds and Prince Bernhard Cultuurfonds
2018 – 2019 internal training 'acting musician' at Oorkaan, a theater production house in Amsterdam that specializes in staged concerts for children.